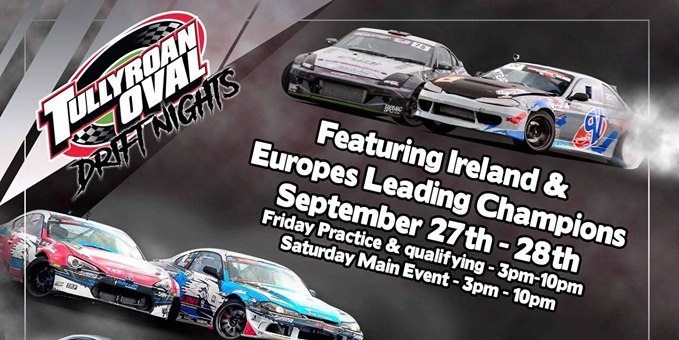 Hidden away in Northern Ireland is the most immaculate Oval circuit named Tullyroan Oval and once in a while, Kevin Quinn organises the most amazing event called Tullyroan Oval Driftnights. Pulling together some of the best known names in the drift world from around Ireland, Europe and occasionally, the world. All under floodlights with Big prizes at stake
We had been given the heads up by a fellow drifter and, after speaking to the organisers, gained an entry for Lwi into this invitation only event, an amazing chance for him to pitch his driving ability against some top class drivers.

The car was checked over again after last round of BDC in Allitalia workshop, some fresh fuel stocked up from new partner Sonoco UK and last minute ferry booking again with Irish Ferries and we, once again headed off to our happy place across the water for the hop from Wrexham to Northern Ireland.
Friday started with practice through the day and the chance to twin with names like David Egan. The weather was mixed with heavy showers and the track was patchy in places so made it quite challenging to run qualifying lines.
Qualifying: As darkness fell and the rain came down hard, the qualifying runs began. Lwi, as always putting his clinical line driving to score an 82 point run to put him just out of the top 10 in 11th place, with only names like Shanahan's , Quinn , Larner, and McKeever and Drift Games Extreme drivers above him, another great result in the conditions
Saturday: And the weather was mixed again, heavy showers and dry spells and after a short practice during the early afternoon start it was time to run a Superlap which gave the running order for battles.
Top 32 Battle: Now the battles were going to get serious and Lwi had been seeded against another hugely talented young driver, Harry Kerr, in pretty identical spec M3 BMW's. The first run and both drivers made few mistakes and put pretty well identical runs in lead and chase, so much so, it was judged to go OMT (One More Time), a good call and both drivers agreed on the decision with another chance to battle.
Top 32 Battle OMT : And another chance to battle Harry Kerr for a place in Top 16, it was close again but Lwi put a better run by a small margin and won! So Lwi was through to the Top 16. The next opponent was going to be interesting…
Top 16 Battle : And this couldn't get any better, something Young Blood, Lwi Edwards had been praying for all year, the chance to battle arguably one of the best drifters in the world and recent Red Bull athlete, Conor Shanahan. It was a tall order to ever beat Conor but Lwi put up an amazing fight, held proximity and ran his perfect lead line. Conor's smooth style is very similar to Lwi which gave him confidence to make a dive on his door but Lwi was certainly out car-ed and he was happy to take the defeat. The opportunity to be able to run with Conor was invaluable and has been a great experience for Lwi to prove he can battle with the best even with a inferior car. This sets him in good stead for 2020 when the next step up car is built.
An amazing weekend with some world class drivers, thank you to Kevin Quinn for the Invite, all our partners who help us out including Allitalia Wrexham, Irish Ferries, Sonoco UK fuels, L2D. We are always looking to work with new names, if you would like to get involved with this journey, get in touch ready for 2020. Its going to get exciting!
Check out selection for In-car and images below: