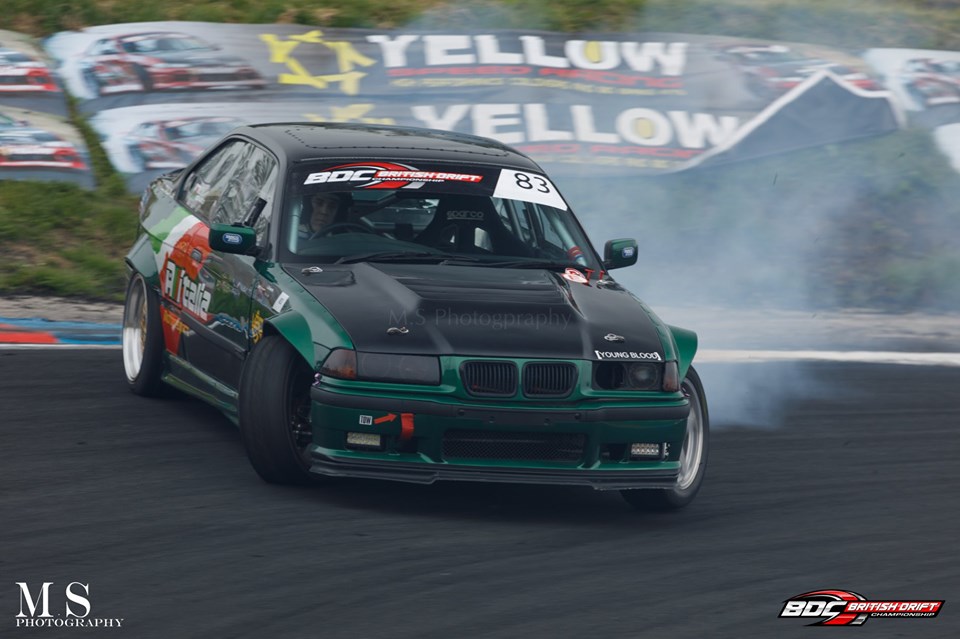 Round 2 of the British drift Championship found us making the long trip over the border to Driftland in Lochgelly, Scotland. With young blood, Lwi Edwards sitting in 5th place overall in the Pro-Am championship, we knew it would be a challenging weekend at the purpose built drift circuit that suits high horsepower cars
Friday practice was spent familiarising himself with a circuit that Lwi had not visted before. With the team trying different settings on the BMW E36 M3, he settled in pretty quickly and dialled in the qualifying line before session finished. Feeling comfortable with the setup, he decided to finish on a high after nailing an almost prefect qualifying run.
Qualifying : 84 points and 3rd Position
Saturday started with open practice for the morning, with the sun shining and a dry track, Lwi spent his time just cleaning up his qualifying lines before the main qualifying sessions started. The weather became overcast as sessions started and the rush to get a run in before it started to rain was on. His first run was clean and tidy, scoring a very impressive 84 points, putting him in 2nd place. Then the weather started to change and light rain started to make things interesting. After making the decision to 'send it' on second run, Lwi got caught out with the slippy track on entry to first clip and slipped off line, this was immediately a zero score, so luckily his 84 point run was enough to finish in 3rd place overall.
Into Battles – The heavens opened
Top 32 : And the heavens opened, we hoped this could give Lwi a small advantage and level the playing field and we were right, so decided to change to narrower Triace tyres on the rear and Uniroyal rainsports on front for more grip in the torrential rain. First battle was with Charles Funnell in his nicely built AE86. Lwi had a great jump on him in lead position and lay down his usual perfect line even in the rain, unfortunately for Charles he couldnt get the grip needed to catch Lwi. The chase run for Lwi was same, with Charles struggling with conditions and Lwi comfortably keeping close proximity throughout. First win to Lwi and though to top 16
Top 16 : And Lwi was pitched against Stu Jones in his Nissan, another high powered car in hands of experienced driver. The Lead run and once again, Lwi was not phased by the very wet and slippy conditions to pull a clean lead line while the chase car struggled for grip and Lwi managed to pull a gap which he held until the finish. The chase run and Lwi held a good proximity to the lead car, keeping a safe distance as the lead car made a few small errors. All in Lwi's favour and he moved through to the Great 8.
Great 8 : A place Lwi has been before and this battle was going to be hard, with Matryn Cowley in his Nissan, another very talented driver who is renowned to be aggressive on the chase runs and is currently leading the championship. The Lead run, and Lwi made a small mistake into clip 2, just dropping a wheel over the circuit into the huge puddle that had developed, but the chase driver also made a large error in the middle of circuit which had now developed a mixed surface of grip, catching a few drivers by surprise. The chase run, for Lwi was hard work, Martyn's car had the grip and the power but Lwi managed to keep close proximity but in the same area of the circuit that Martyn had problems Lwi had to back off to avoid hitting the lead car, this caused him to transition too early and he ran wide off track on that clip. After composing himself, he held a good chase position for the rest of the run.
So it was all up to the judges to make their decision, which seemed to take for ever, both drivers had made errors on the difficult mixed surface and opinions were mixed, the majority wanted one more time, but judges couldnt agree and the win went to Martyn Cowley. A controversial decision as both drivers would have been happy to run OMT to battle it out. So Lwi was out and Martyn Cowley made though to Final 4 and on to finish on the podium
Another amazing result for Lwi in his first competitive season at a circuit he had never even visited before, never mind driven, the weather did help with lack of horsepower in battles, but he also qualified 3rd in the dry against some big horsepower cars. The podium is getting closer every time and Lwi is currently sitting in a nice position on the championship table in 5th overall.
Credit must go to Learn2Drift, the leading UK drift school that started the whole drift mission 18 months ago, now officially an instructor for the school, with their help and guidance, it has enabled Lwi to experience drifting on both wet and dry surfaces in different vehicles. The opportunity to gain extra seat time inbetween competition is invaluable and is recommended to both beginners and experienced drifters. http://www.learn2drift.com