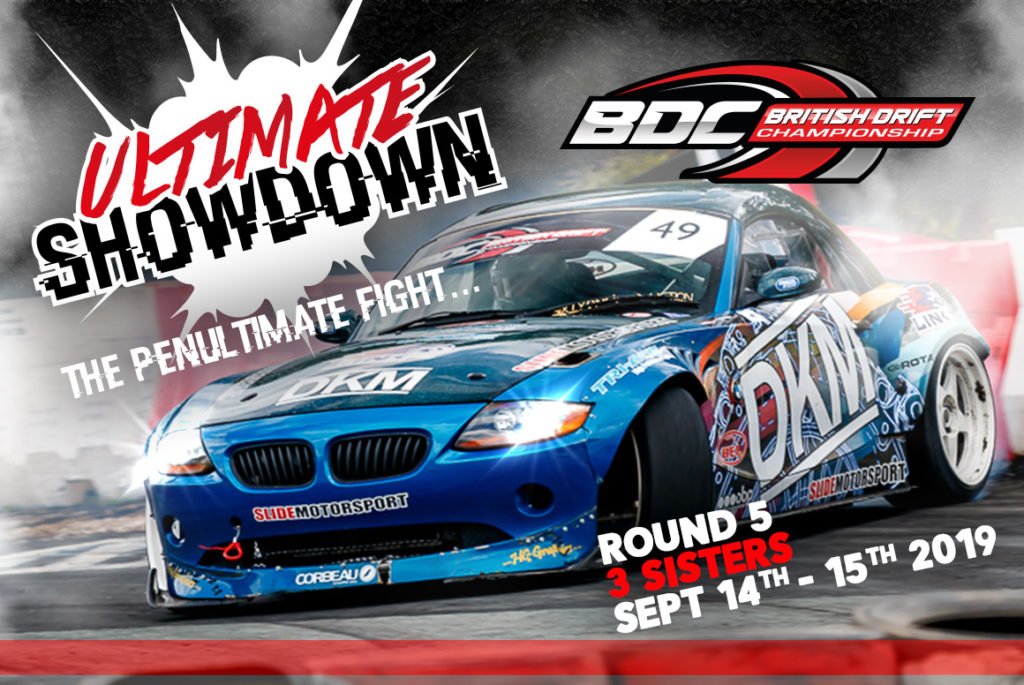 Round 5 of the British Drift Championship was to take place at the Three Sisters race circuit in Wigan, a tight and twisty track, using a new layout. Although Lwi had only done a novice day in 3 sisters previously, the new layout helped level the field a little against regular visitors.
The weather forecast was good, warm and dry, unlike previous rounds, this would give Lwi the chance to silence the doubters who think his current position in the championship, 1st, is due to the previous wet conditions favouring the lower power of the M3.
Friday, was a short drive from the Allitalia base in Wrexham after the M3 had been checked over and was spent with free practice and Lwi familiarising himself with the new layout. A very technical line had been set out to challenge the drivers, Lwi inputted the data into his processor type brain, spent some time perfecting the line then called it a day.
Saturday morning and the weather was dry and warm, after a short practice it was time for qualifying. Lwi was the last to run due to his position in championship and was determined to prove a point. His first run was a tidy 94 points and a second run topped this with a 95.6! Top qualified again but always chasing that perfect 100 score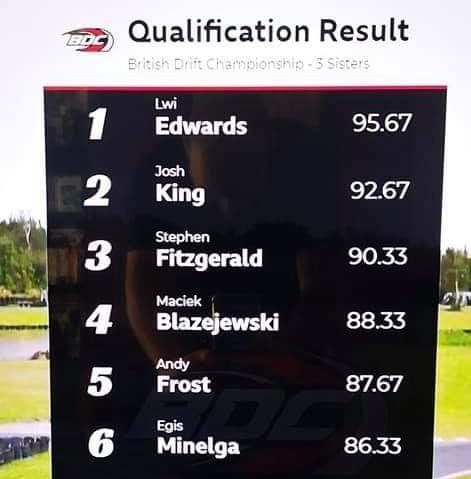 The Battles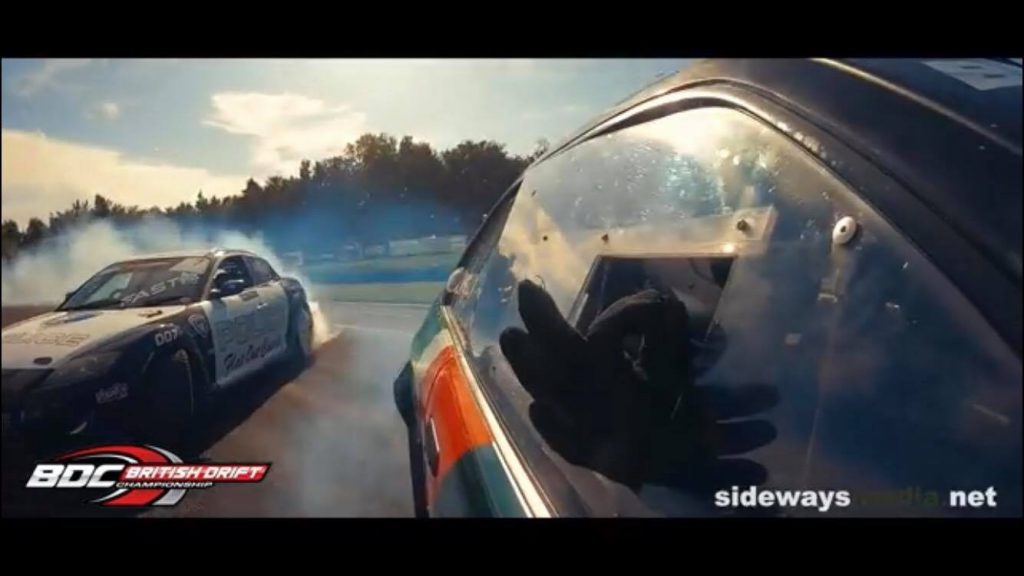 Top 32 Battle: The first battle was to be with local drift god Karl Farrar with Lwi putting in his now almost perfect lead line, Karl was able to get up close, physically pushing him over the finish line. Lwi chase was tidy and close enough to win the battle. Advantage Lwi and through to Top 16.
Top 16 Battle: Lwi second battle was with Paul Cunnington, another driver who is close in championship, Lwi now has qualifying line dialled in and Cunnington made a few more errors than Lwi. Advantage Lwi and Great 8 beckons
Great 8 Battle: A battle that Lwi was looking forward to, Martin Cowley, sitting a few points behind Lwi in championship, this was to be a head to head battle, and the conditions were dry, advantage should go to Cowley with his superior powered Nissan. But Lwi drove a clinical lead and an impressive chase which impressed the judges, against the odds he took the win and finally made it into the Final 4, a position that has eluded him a few times this season and achieving this by taking his direct competition out made it a special moment
Final 4 Battle: This was going to be a tall order in the M3, pitched against Andy Frost in the 600hp FastR BMW. Frost had started to gel with the car after spending some time testing and he was driving well. The battles were very close but Frost took the deserved win by a close margin.
Final battle : The battle for the final place on the podium was against Minelga, another hard fought battle that Lwi managed to clinch with his precise line driving. 3rd position was in the bag!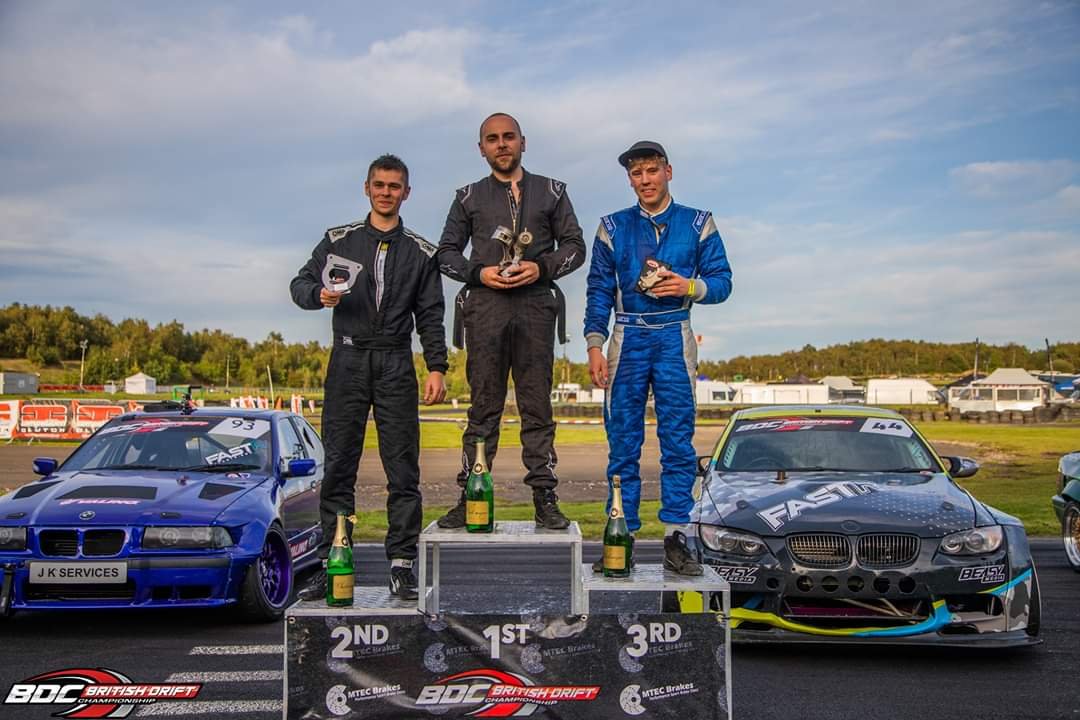 The Pro Class
But it was not over, the top 4 finishers in ProAm had opportunity to race on Sunday in the Pro class
Qualifying: And Lwi pulled it out of the bag and put a safe first run in with a 78 point then nailed it with a 91 point run. He held the top place in qualifying until knocked down to 2nd by Martin Wonnacott. This put Lwi straight into Top 16 battles and he could sit back and watch the remainder of the field battle it out.
Top 16 Battle: This level of the Pro class was alway going to be difficult and Lwi was to battle Adam Simmons in his LS powered BMW. Another very close battle that Lwi lost by just one point.
Overall a very productive weekend that showed what Young Blood, Lwi Edwards is capable of, wet or dry. The fact that Lwi has only owned a drift car for 18 months, this is the first year in competition and he is still only 17yrs of age. Looking forward to seeing what can be achieved in the Pro class in 2020.
The last round of British Drift Championship is Buxton on Friday 11th October for Pro Ams and a full weekend of competition. Buy your tickets here and support us
https://www.eventbrite.co.uk/e/bdc-round-6-buxton-raceway-20-discount-tickets-55893921223
Check out the Playlist below to catch action inside and outside the car from round 5