At the start of this season we couldn't have predicted the position that Young Blood, Lwi Edwards has found himself in going into the last round of the British Drift Championship at Buxton Raceway. Currently sitting in 2nd Position of the ProAm championship after being knocked off the top step by Josh King but still only 5 points behind and he has extended his lead over Martin Cowley who is now in 3rd after knocking him out in a head to head battle at the last round at 3 Sisters.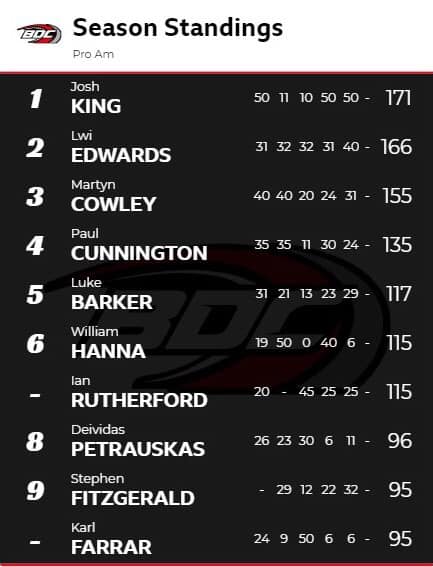 This goes to show what a young new driver can achieve with consistent results all season, only one podium finish, but always qualifying high and reaching the Great 8 in every round. Lwi has been in stealth mode gathering crucial points which have carried him to the top of the championship, and it hasnt been easy, Lwi has had to work hard with his relatively low powered M3 engined BMW against a field of higher powered cars. It was planned at the start of the year to keep the spec of the car realistic for his first ever season in the ProAm class so Lwi could prove his talent behind the wheel against the odds and he has exceeded all expectations. The Pro class is calling for 2020 and a completely new Pro Spec car build is on its way.
Round 6 will take place at Buxton Raceway, an oval circuit up in the hills, which Lwi has driven only once. However, fresh from his return from the epic Tullyroan Oval in Ireland, he has had some experience of battling in an oval with walls that can 'bite'. Only 12 months ago when Lwi was still 16yrs old, he finished on the podium at the very last Iconic King of the Ring at Arena Essex, another tight oval circuit. This circuit layout looks challenging and technical and the BDC Team will be putting on a great show for the last event of the season. The weather at this time of year could be unpredictable and Lwi will be avoiding any hard impacts to the walls. It is a tall order for Lwi to win the championship, the top 5 are so close in the points table that it could go to any one of them, but he has now proved that he is a contender for the championship.
Friday 11th October is the main day for ProAm class running under floodlights and the winner will be decided at around 10pm. The event Continues on with Pro class on Saturday and a Battle Royal on Sunday for all comers.
Tickets can be bought on line at Buy BDC Rnd 6 tickets