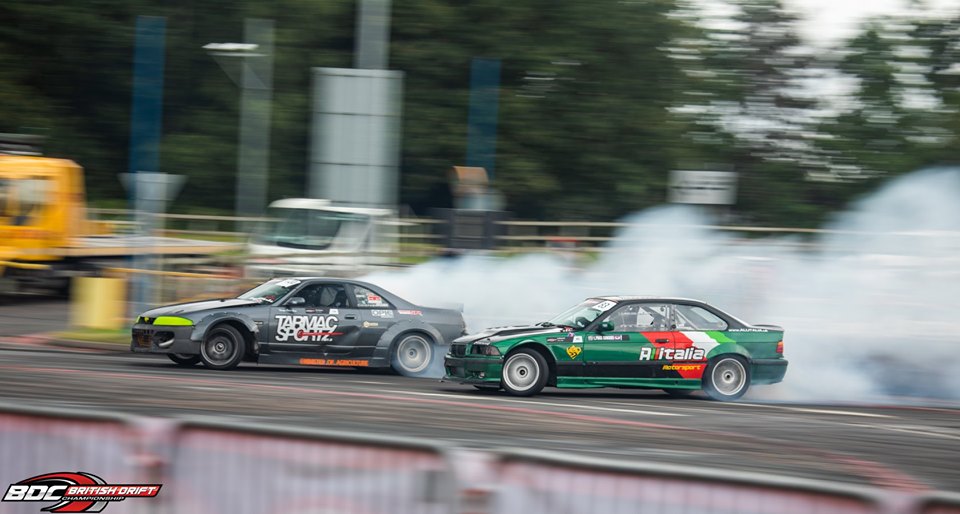 Round 4 of the British Drift Championship, High Roller, was to take place on a purpose built track at the NEC in Birmingham. Solid concrete barriers lined the technical layout which would favour the high horsepower cars, unless it rained, which it did, torrentially!
Arriving at the venue on the Friday ready for practice, the Allitalia crew set up their usual camp ready for a half day of practice for Lwi in the M3. Weather was dry and a limited amount of time for the field of drivers meant a rush to get some runs in and familiarise with the new layout. Lwi did his usual and just dialled in the line he needed , inputted the information into his computer type brain and signed off for the day.
Saturday turned out to be a different story, greeted with torrential rain that didnt let up for a lot of the day, this was going to upset the whole field of drivers and also level the playing field for lower horsepower cars, but still didnt make it easy for Lwi. Some extra practice in the morning helped get used to the rain, but it was going to be a lottery for everyone with standing water and slippy painted lines, some uncharacteristic zero scores were ahead.
Qualifying: and Lwi was determined to qualify well now he was 2nd in championship within reach of the top step so kept his cool to run a steady and safe first run, choosing to run the Triace soft tyres to search for grip in the wet surface. His score of 58 was lowest to date but enough for the conditions to keep him in top 10 for a while. The second run was a disaster, something rare for Lwi to ever do, a certain part of the track caught a lot of drivers out, and Lwi included, he span! This meant that his score of 58 was to stand and the long wait to see what position it left him in. Luckily for Lwi, and with lots of zero's happening, he qualified a reasonable 17th place. The worst position ever but safe to fight in battles.
Top 32 Battle: A David and Goliath battle to be had, Lwi Vs Andy Frost. Lwi in with approx 340hp and Andy with around 700 hp, but the track was still wet and this would help Lwi get the power down. Lwi to chase on first run and he kept it safe and steady in the wet and slippy conditions. His lead run again was steady and accurate, running a nice lead line as always, this was in the bag for Lwi, and his confidence was growing on the day.
Top 16 Battle: and Lwi was facing a newcomer Damien Choppen in his E46 with 1JZ engine fitted. The track had started to dry slightly and this was to become a bit of an issue for Lwi running the sticky Triace tyres, with the mixed surface changes, gripping in areas made for a challenging drive. Lwi lead line was nice and tidy, the chase was on point and advantage to Lwi, so through to great 8.
Great 8 : This was to be an epic battle with William Hanna in his Skyline, almost twice the hp and a track that was drying out quickly. Lwi made some small errors on his lead run due to the grip level changing and not having the horsepower to compensate, but also ran a perfect line on the walls, then Hanna also made few mistakes. So it went to one more time, the best decision the judges could make. By now, the Triaces were grippy and did cause Lwi to shallow slightly on his chase run, but kept proximity and did a few demon dives on the lead car to please the judges. His lead run was an epic start, somehow left Hanna standing off the line but carried too much speed into the same corner that caught him out on qualifying and Lwi span! .. Again… Hanna took the deserved win.
So Lwi didnt make the final 4 again but an amazing result again for the 17yr old youngster in a relatively low powered car on his first ever year of competition
But consulation for the weekend was winning the 'Hard Charger' Award for the day knowing that he is now LEADING THE PRO-AM CHAMPIONSHIP!!!!!
Check out the video below from the weekend