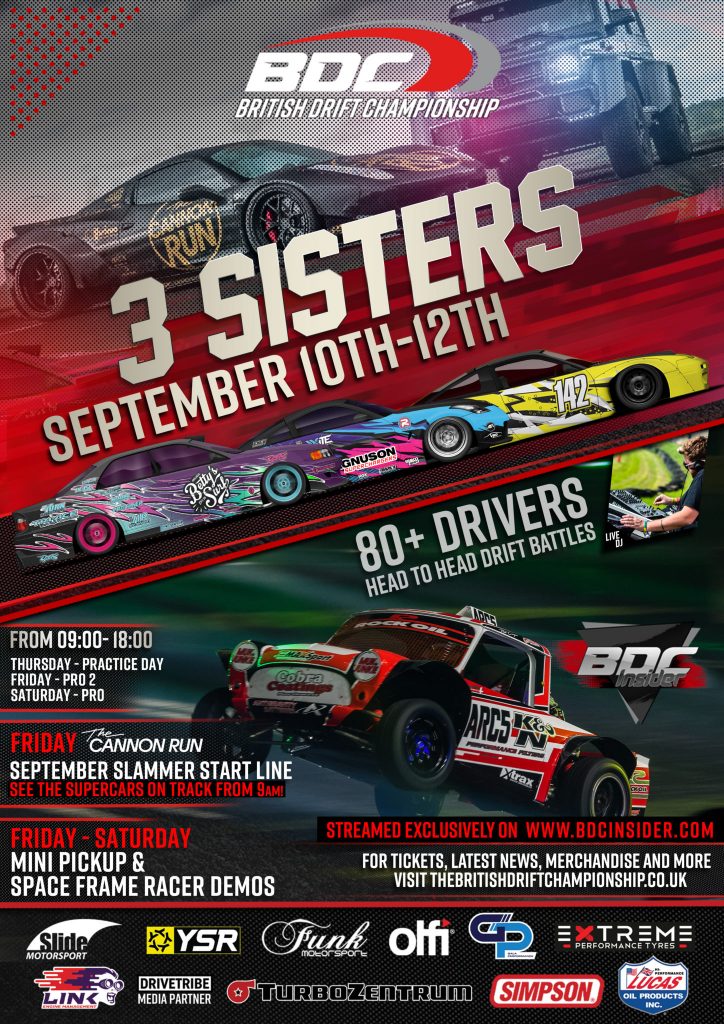 Round 2 of the British Drift Championship at Three Sisters circuit in Wigan, 12 months to the day when Lwi made the podium for the first time in the ProAms and almost qualified top in the Pro class, so he was looking forward to a good result now competing in the Pro class for 2020.
Practice day was booked for the Thursday prior to the event but a minor scare saw main sponsor Allitalia stripping the gearbox out of the car on Wednesday evening after a noise developed in the transmission while moving the car ready to load on the trailer. After checking the clutch and flywheel, the gearbox was replaced for the spare to avoid any failures on race day. The BMW LSV8 was given a clean bill of health and loaded ready for a later start on practice day.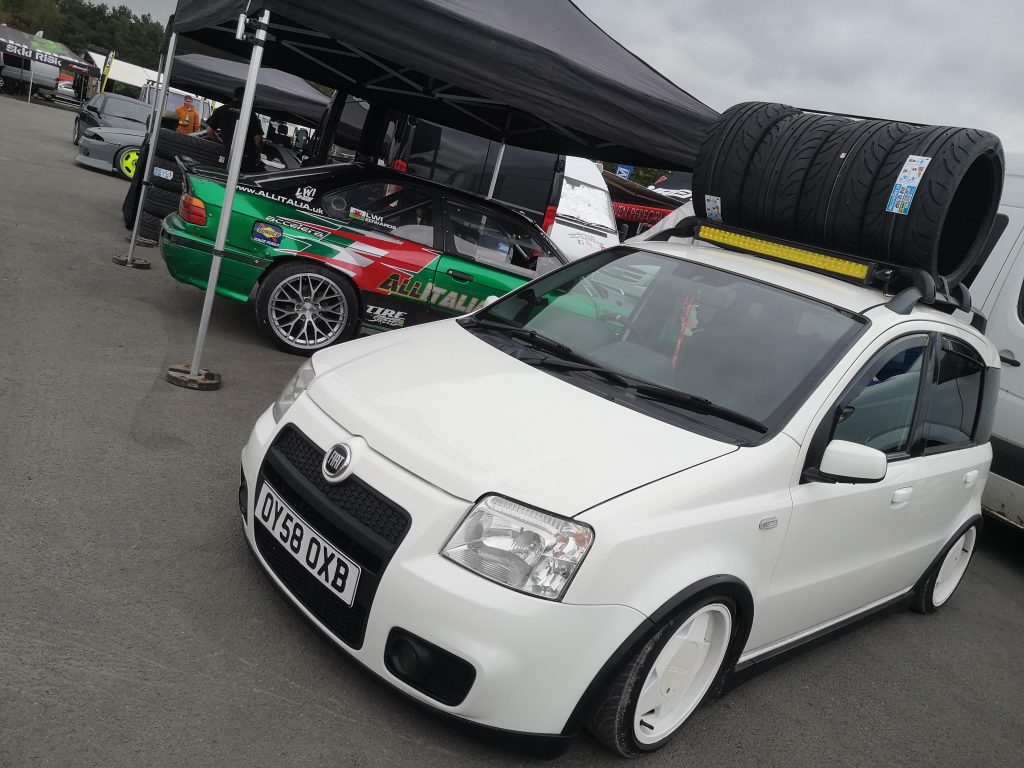 Practice day ran smoothly and gave Lwi a chance to get used to the new Accelera 651 sport Xtra 100 TW softer compound semi slicks supplied by partner for 2020 Tirestreets UK now mounted to some new 1 Form 18 inch rear wheels. We dialled in some different settings to gain some more grip and tried some different tyre pressures. Some new cooling fans fitted after the problem in previous round turned out to be much more efficient and kept the temperatures down by about 20 degrees to around 90c, even when driven hard which was a relief. The car ran faultlessly until it suddenly cut out while waiting in line at the start. After being towed back to the paddock it turned out to be the main kill switch, brand new this year, which had failed! After searching the paddock, Luke Barker's team came to the rescue with a new one, all fitted and ready to go in under 30 mins. The rest of the day was uneventful, Lwi just cleaning up the qualifying line ready for race day
After chilling out watching the Pro2 class it was time to get the race face on for the Pro day on Saturday. Fuel up with Sunoco race fuel, new Accelera 651 rear tyres and morning practice, the weather was good with a damp start but forecast was dry so it was going to be fast and furious all day for sure.
Qualifying Runs:
First qualifying run and Lwi was on it from the start, a nice clean line hitting all the clips and gaining a score of 94,holding top spot for a while but finished finished 2nd
Qualifying Run 2:
Never happy with his run and always chasing that perfect score, Lwi was advised by judges he needed to put more flare in his style, so this run was more smoke, speed and pushed out to the clipping points. Something was amiss this time though and a lesser score of 92. Back to the drawing board to chase the perfect score. However, Lwi did finish the qualifying in 3rd position which is pretty amazing for his first year in Pro's
Top 16 Battles:
Due to Lwi high qualifying score he advanced through to the top 16 and his fist battle was to be with one of the most experienced drivers on the grid Martin Wonnacott in his awesome high spec Toyota Chaser, this was going to be a good one. Lwi pushed hard and put his usual flawless lead run which may have caught Martin on the hop but he caught up quickly on the chase run. Turning around and Lwi made a few mistakes on the first few clips so the judges voted for a OMT (One More Time) to give a chance for a cleaner run from both drivers.
Top 16 Battle OMT:
Lwi pushed hard on this battle, it was close and entertaining until Martin was forced into a mistake on the last few clips, running off the track and allowing Lwi to take the win and advance into great 8
Great 8 Battle:
After battling Martin, the great 8 battle should be more even with young irish driver Dylan Kehoe who had advanced through from Pro2 with a very nice spec Nissan with similar power to Lwi. It was very close and tidy battle which Lwi took the win to advance through to Final 4
Final 4 Battle:
Well, this was going to be a mission, Lwi was now up against the experienced and fellow welshman Ollie Evans in a much higher spec Nissan who was determined to win the championship. Lwi pushed as hard as he could, it was close and fast with Ollie losing his bumper on transitions but Lwi just couldnt beat Evans and the lost the battle.
Third Place Playoff:
Lwi had one final chance to make the 3rd place podium and his opponent was the young driver Max Cotton, who had stormed the field of Pro2 to this position in the Pro class. The battle again was close with both Lwi and Max rubbing doors but the win went to Max, so Lwi just missed out on a podium place. Well done Max!
Lwi finished the weekend with a 4th place o/all finish and although disappointed in not getting another podium at Three Sisters it was a great result after some hard battles. Currently sitting in 5th place in the Pro championship, once again it it a great result for the first year in the Pro Class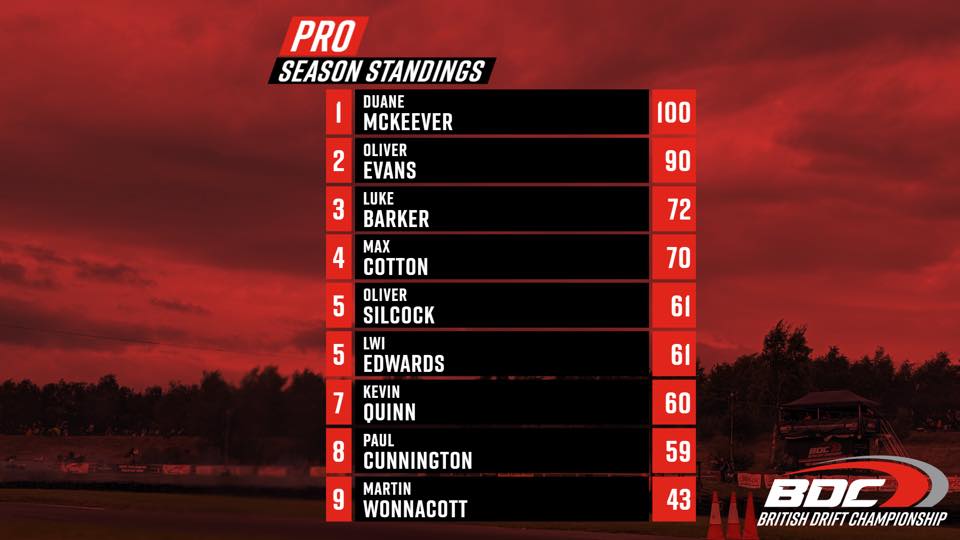 Always looking for consistency like last year in Pro2, if Lwi can stay in top 5 for this season it will be a great achievement, but who knows what happens, with so few rounds of the championship, things can change quickly.
Huge thanks to everyone involved with the team from sponsors Accelera tyres, tirestreets UK, haltech, Sunoco fuels, Driven Oils, Learn2Drift, 1Form Wheels and bank of Nana and John, as well as all the Team Driftfam who all make this possible.
Always looking for support on this journey, please get in touch if you can help out in any way at support@lwiedwards.com