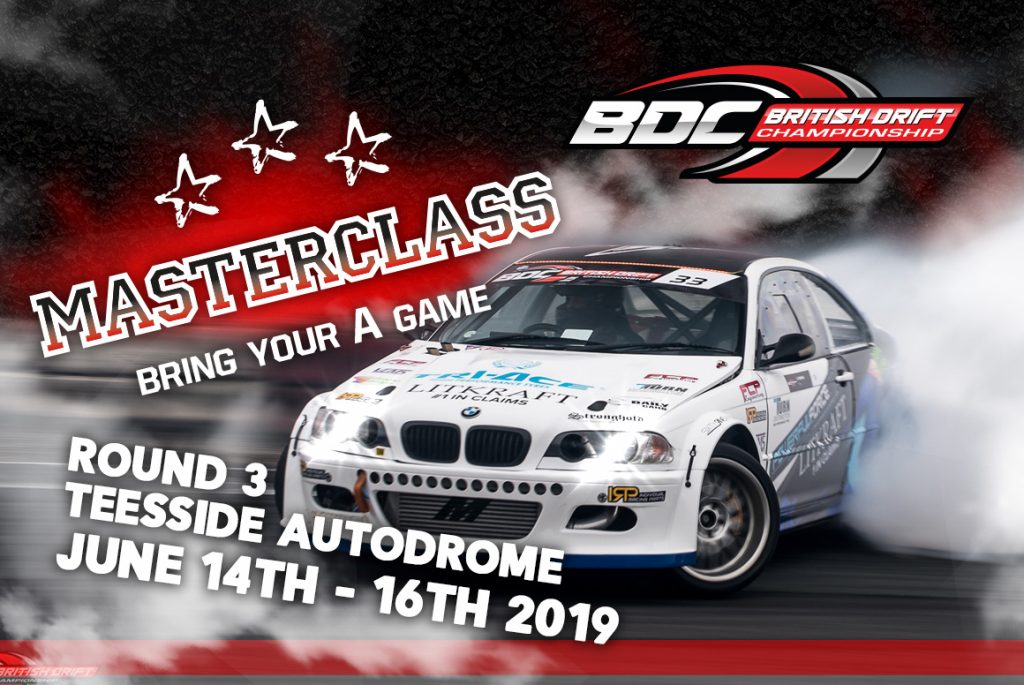 With a short break from the Drift Games National championship in Ireland, our next round for Young Blood, Lwi Edwards was round 3 of the British Drift Championship which was visiting Teeside for the second time due to problems securing a new venue. However, the circuit was to be run in the traditional direction, with very fast entry into banked circuit, this was a bit of a concern for us due slight shortage of horsepower that the BMW M3 evo suffers from against a field of 450+ hp cars. Currently lying in 5th position in the championship, it is becoming obvious that he has the ability to get impressive results in his first year of competition.
With the van loaded, it was time to hit the road early from the Allitalia World HQ in Wrexham to make the most of practice on Friday and arrive to a mixed bag of typical summer weather, heavy rain showers. Initially spending the morning on a wet setup with the grippy Triace tyres, towards the afternoon, the skies cleared and the track dried and decided to revert back to the Irish control tyre, a road based Westlake tyre which Lwi prefers. One of the last runs of the day, Lwi managed to do a chase run with Pro driver Martin Wonnacott and even the power difference is probably double, still held a reasonable proximity during the chase… admittedly, Martin's tyres were shot and he lost grip, but it was a chance to run with one of the top drivers in championship without being embarrassed .
Qualifying, and due to Lwi Edwards sitting high up in the championship, he was one of the last to set out on his qualifying run. Once again showing that, with his technical smooth style, he can get the most from his relatively low powered M3 engine by putting it exactly where the judges ask, hitting all the clipping points and not dragging the handbrake. Lwi is quickly gaining the new name of 'Mr Technical' from the Judges who appreciate his style of driving. Another impressive score of 83.67 was enough to give him 4th position overall at the end of the session. On to the Battles
Top 32, due to his opponent Matt Fountain having car problems, Lwi was given a byrun, and automatically through to the Top 16. Its was a shame as Lwi had battles Matt the last time at Teeside and he was looking forward to a rematch.
Top 16, and Lwi was to battle a driver who has been on point all year, Lee 'Colgate' Lawrence in his S14. Lwi to lead and put in his usual perfect qualifying line, Lee had a bit of a moment while following and lost his drift. The chase run, Lwi lost a little proximity due to getting mixed up in the smoke from Lee, but held his line. Advantage went to Lwi and he was through to the Great 8.
Great 8 – Another great battle to come with hugely experienced driver with 10 years behind him, Karl Farrar in his V8 powered RX8, this was going to be a hard fight. Lwi to lead out with a perfect line as always apart from a tiny error on last clip . On his chase, the proximity was slight problem and this was judged as one of the main reasons to favour Karl. It was mentioned again the Lwi was not outclassed, but out 'carred', something that will need to be addressed sooner than we expected. So advantage Karl and Lwi failed to make final 4 again!
A fantastic result once again for Young Blood, Lwi Edwards, to almost make it into the final 4, consistently in every round, which has now placed him in 2nd position overall on the British Drift Championship leaderboard, and only 5 points behind the top spot. Amazing for a 17yr old on his first attempt of a UK championship and only 15 months in a drift car. The future is going to get interesting with more support and sponsors needed to help his career grow .. more horsepower is needed !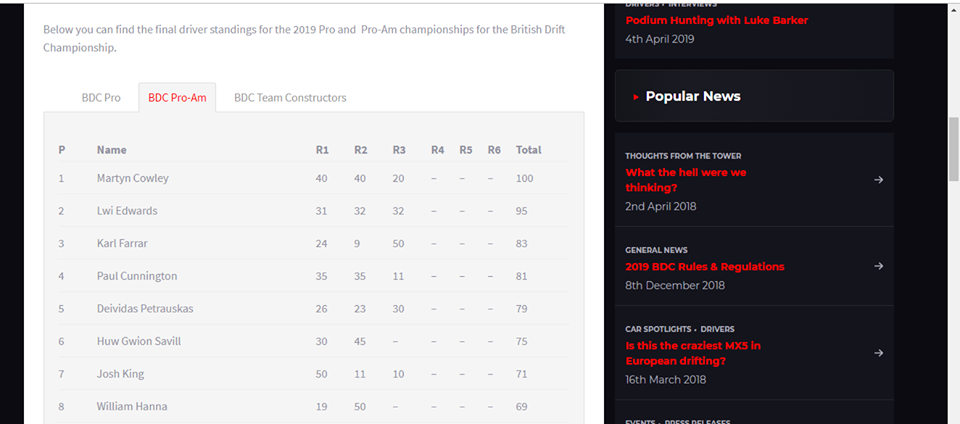 Our next round of the British Drift Championship will be at the NEC Birmingham 27th July. Inbetween this we will be sailing back to Ireland for the next round of Drift Games Nationals on 7th July in Northern Ireland where Lwi is currently in 13th position overall.